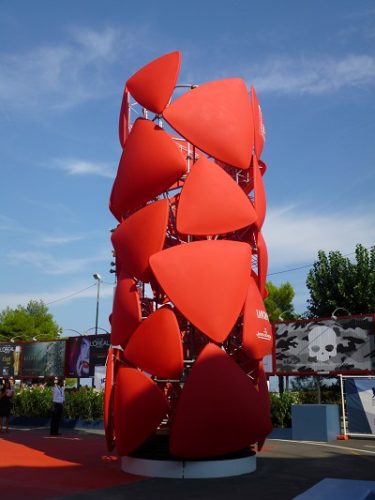 Our man on the ground was present at the Sala Grande for all the screenings for the entrants for the Festival. Here is the daily report on the films. These are personal views not those of San Marco Press.
The Sala Grande holds about 1200 people and it is great cinema, good seats, good views & enough leg room. Most of the screenings are full, between those who have the season tickets, those who at involved with the film being shown & the accredited industry people who take any other vacant seats. The atmosphere is great, so is the sense of anticipation as we will be the first in Europe to see the films.
The interesting aspect of the event is that when you talk to people after the event or read the critics' reviews there is such a difference of opinion. For example the two big US films The Master & To the Wonder range from 1 out of 5 to 5 in the papers!
To save you reading the daily round-up, the results were:
Best Film – Pietà by Kim Ki-duk
Best Actors – Philip Seymour Hoffman & Joaquin Phoenix in The Master
Best Actress – Hadas Yaron in Fill the Void
Best Director – Paul Thomas Anderson for The Master
Jury Prize – Paradies by Ulrich Siedl
Best Screenplay – Apres Mai
Best Cinematography – E Stato il Figlio
29/8
Medici con l'Africa, documentary by a Venetian, Carlo Mazzacurati, about doctors via a Catholic organisation in Padova & interviews with the many Italian doctors who have gone there for a month or 30 years. Moving, well balanced & a long standing ovation. Not in competition. 9/10.
The Reluctant Fundalmentalist by Mira Nair, who did Monsoon Wedding & won the best film in 2002, about a Pakistani who goes to the USA, becomes a successful investment banker & receives bad treatment in the USA after 9/11, returns & becomes a radical university lecturer & becomes a target for the CIA after a kidnapping. Really liked it, best so far, long ovation, not in the competition. 9/10.
30/8
Izmena, Betrayal, by Russian Kirill Serebrennikov, a modern day drama of two couples, infidelity. A dramatic Hitchcock style thriller, popular, "on the edge of the seat". 7/10.
Superstar, French by Xavier Giannoli, similar to the part in Woody Allen's To Rome with Love based on someone who becomes famous for no reason. Nice idea streched out over 2 hours so a bit tedious by the end, how to end it? 5/10.
31/8
Paradies/Glaube, Austrian, Ulrich Seidl, always controversial filmaker, a middleaged lady who refinds her Christian faith & becomes obsessive, complicated by the reappearance of her wheelchair bound Muslim husband. I fell asleep for a while, it really divided opinion. 5/10
At Any Price, USA, by Ramin Bahrani, first of the US biggies, Dennis Quaid & Efron starred, set in the wide expanses of Iowa, well made & various dramatic turns, long ovation.8/10.
1/9
è Stato il Figlio, Italian, by Daniele Cipri, "home game", big ovation, story of hard up family in Palermo Sicilly, shades of Tornatore, well made, funny & sad, really liked it. 8/10.
The Master, USA, by Paul Thomas Anderson, one of the biggies, with Joachim Phoenix, Philip Seymour Hoffman, good acting, story about Scientology, evidently director showed it to Tom Cruise & he said that they were still friends, good photography, for me it was too disjointed & excessive in parts, long ovation, divided opinion.
6/10.
2/9
Fill the Void, Israeli, by Rama Burshtein, simple story based in Hassadic family in Tel Aviv about the marriage of a younger daughter, one of those surprises when you see a good film having had low expectations. 7/10.
To the Wonder, USA by Terrance Malick, the other biggie, Ben Afflick, Olga Kurylenko, cheers & boos at the end, if you liked The Tree of Life you'll love it, if not you'll find it long & pretentious! I am of the latter. 4/10.
3/9
Outrage Beyond, Japan, Takeshi Kitano, director & main actor, gangster movie in Tokyo, action packed & at times violent, the Godfather style, the only film so far which Anna & disagree on. 8/10.
Apres Mai, French by Olivier Assayas, set in late 60s, 18 year old growing up with radical views, moves between France, Italy & London, a youth film of the times with love interest thrown in, something we all knew about. 6/10.
One thing to remember is that many of the large studios do not enter competitions for fear of not winning & ruining their PR, so you must admire the large boys for putting themselves at risk.
4/9
Pietà by South Korean Kim Ki-duk. A powerful film, well made about an enforcer of loans to small workshops in Seoul. Many twists of the tale, but it really prompts the question, like the Japanese gangster film – how many limbs do you need to see being cut off to get the point that the guy is violent, 1/3/6? Both these films were popular, especially with a younger group, say 25/40. Good but not enjoyable. Amazingly the director says that it cost only $100,000!! 7/10
Linhas de Wellington by Portugese Valeria Sarmiento, the story of Marshall Massena's invasion of Spain & Portugal in 1811 & the successful defence by the Portugese & British by Wellington. A long historical story, well made, John Malcovich as the Iron Duke who gives the recipe for Beef Wellington during it. 8/10.
5/9
O Gebo e a Sombra, by 105 year Portugese director Manoel de Oliveira. Very simple, like a stage set, measured but slow. I fell asleep again! However no sex nor violence! 5/10.
Bella addormentata (Sleeping Beauty) by Italian Marco Bellocchio, a well known Italian cast, based upon the case of a girl who was kept alive for 17 years in a coma & then moved from Lecco to Udine where she was allowed to die. Various parallel stories running alongside it whilst the Parliament were debating the subject. As a home game it was very well received. 8/10.
6/9
Sinapupunan, Thy Womb, by Phillipine director Brillante Mendoza, a gentle & touching story of a wife willing to let her husband marry a younger woman in order to have a child. Seems simple but as it is set in one of the few Muslim island communities in an otherwise Christian country makes it even more impact. Beautiful images. The women were the most beautiful I've seen of all the actresses. Photo attached. 8/10.
The Company you keep. Robert Redford's new film, not in the competition. A great Redford thriller, he's on the run (Day of the Condor?) having been a member of the Weathermen "terrorists" in the Vietnam war period. Terrorist has a completely different image nowadays. Enjoyed it. Watch out for Julie Christie, I didn't realise it was her until the credits! Photo attached, must be one of the few actors not to use botox, brave man. 9/10.
7/9
Ja Tozhe Hochu (Me Too) by Russian Alexej Balabanov. Very dark Russian story, most people were trying to work it out afterwards. At one point again caught up on some sleep. 6/10
Passion by Brian De Palma, another US biggie, reckon it's a strong contender, gripping story set in Berlin & bit in London. Has it all – tense thriller, sex & violence – but not in Far Eastern doses. The man himself is of Hitchcock dimensions, second illusion to him in these emails. 9/10.
Un Giorno Speciale, A Special Day, by Francesca Comencini, Italian so a home game. Strong response from the audience, initially felt it was a bit light, but the final twist was eerily current. A young attractive cast. 7/10.
After 21 films of every genre I can you that it's great, well worth a vacation just for the festival, Venice is thrown in for free.
Probably one of the US biggies will win – At Any Price, The Master, To the Wonder, or Passion. Italian biggie Bella Addormentata. Outsiders – Betrayal, Paradise, E stato il figlio, Apres Mai, Pieta, Thy Womb.
I hope for Passion or E stato il figlio.